I see many members around the comm with permanent want posts in their journals and I figure its a good idea to have one! I'll be updating as I get them of course :D As you may or may not know I strictly focus on collecting these guys now, until I fall in love with an x/Y pokemon!

the top three being my main collections! second tier being important side collections and the last row is regular side collections :3
I ideally want one plush of each and have achieved that aside from skuntank who I will eventually commission a custom plush for! Fingers crossed for MPCs of all these guys!!
My collection is mostly figure/plush oriented but if the flat is nice i'll sometimes buy it
Firstly I will buy ANYTHING electrike you have most of the time, even doubles of figures (other than the kid) especially the TOMY and such. I need a little electric dog army!
High priority electrike wants
(aka i'll find the money somehow gosh darnit!!) are:
The hasbro bite action electrike figure (it is easy to distinguish from the tomy because of its leg and hinged mouth, smaller than the tomy but bigger than the footprint figure or zukan) Really want one! Must be in good condition ( a few marks are fine but I will require photos)
~~~~~~~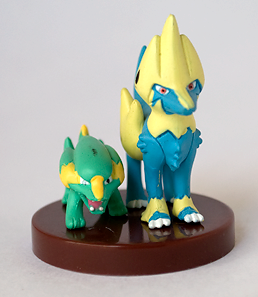 The zukan (pref together with manectric but would even consider buying loose!)
~~~~~~~
Low priority electrike wants
(aka I might not have the funds to spend on, but ask me!):
A more minty electrike TOMY, the one I have is pretty darn scuffed up :( I didn't see that in the sellers photos. Dosn't have to be MIB but clean and pristine with no paint chips!
High priority Manectric wants
(aka i'll find the money somehow gosh darnit!!) are:
Manectric Data carrier (such a handsome figure! ;-; )
~~~~~~~
Manectric TOMY! looks like a larger version of both the zukan and footprint figures.
~~~~~~~
Manectric chess piece, looking for a fairly minty one of these as I have the figure broken off separate but hes pretty darn dirty xD
(no picture) also the manectric metal figures!
Low priority Braviary wants
Braviary kid looking to pay around $2 - $5 for it before shipping!
~~~~~~~
Braviary TOMY figure, looking to pay < $8 shipped for it, might just break down and buy it from ebay soon xD with shipping the way it is
Low priority scolipede wants
Scolipede kid looking to pay around $2 - $5 for it before shipping!
Thats all for wants right now! Please PM me if you have any of these you are willing to sell!
mostly electric puppies because their merch is a little harder to come by! Most of the others I either have what merch I want of them or its too expensive to even consider or heck even about to be released! (soo many eeveelus flying out of my wallet @_@ )
Zap you later!!


Nevertheless I shall try!
I haven't touched livejournal in years :D blog websites like this and Tumblr intimidate me a little. Forum style is so much easier for me to understand :x